ASSAN NEW BATTERY VOLTAGE DISPLAY - 6S Monitor:
• Functions and Features
• Measure and display the voltage of each cell and total voltage of the 2S~6S lithium battery packs.
• Flashing light to indicate low voltage.
• Large-sized LED segment display with clear and legible characters.
• High contrast gradient suitable for bright outdoor environment.
• Compact in form and light in weight, suitable for use both on hand and fixed on model.
• Power-saving mode specifically designed for real-time monitoring of voltage when installed on the model.

PM3C/PM4C:
| | |
| --- | --- |
| | |
| PM 3C | PM 4C |
PM3C/PM4C li-poly monitor used in checking each cell's voltage in the pack. Plug the kits to your battery pack's balance connector, if all cell's voltage is more than 3.4v,the LED light GREEN. After you discharge the battery in flying or running. when one cell's voltage drop down at 3.4v,the correct LED turn RED. You can get this message and prepare to land for protect your Li-poly battery. No one cell's voltage below 3.0v means your pack's life can get longer.

PM3C Specification£º


WEIGHT£º1.9g


SIZE:28.5 x 15 x 4.6mm
PM4C Specification£º


WEIGHT£º2.5g


SIZE£º28.5 x 19 x 4.6mm

BATTERY VOLTAGE DISPLAY: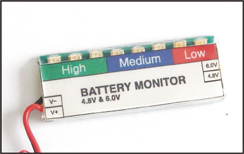 Battery voltage display (BVD) designed for show the battery's voltage in running, help the user to get the information on spot.